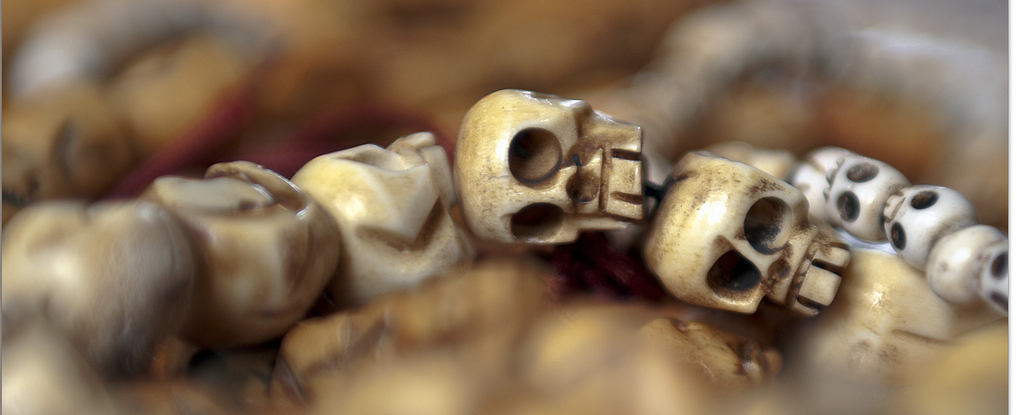 M. BRETT GAFFNEY
Soldiers in San Salvador, 1986, After Mass on the Day They Found Little Luíz
Bead
by
bead
she
cries
             madre
             madre
             madre
             madre
             madre
             madre    
             madre
             madre
             madre
             madre
I pray that she stops
             oh
             madre
             madre
             madre
             madre
             madre
             madre
             madre
             madre
             madre
I pray that you stop.
When Asked Why I Believe in Ghosts:
Because they're here and we can't see
them. Because I saw my dog
make her way around the couch in the dim
Summer afternoon two years after she died.
Because you don't have proof they're not
and because I don't have proof they are—
unless of course you count the night
at the old sanitorium when my flashlight
beamed its little bulb of its own accord
after I asked the night to turn it on.
Because I wake up every morning
with sand in my eyes, unsure of how
it gathered there. Because I was raised
Catholic and pray to Saint Antony
when I lose things: earrings, a screw
from my only pair of eyeglasses,
my grandfather's rosary beads.
Because when I pray I find them and what
more are Saints than glorified ghosts,
metaphors for anything that haunts us,
follows us, watches us when we think
we're alone, when we wash ourselves,
water beading like fingers across our skin.
Because when I was a child I woke up
screaming from nightmares—my mother's
careless step from the curb and into traffic,
grammy's collapse while raking leaves—
each time waking with the cold, tasteless
sense of mortality, the awful knowing
that one day they'd be gone. Because ghosts
don't go. Because ghosts spend their days
trying to get back, desperate to find
a lost hairpin they meant to give their niece,
wanting to lie in bed at noon beside
their partners and wait. Because there's
always someone talking and because
I'm here listening. Because I want to listen.
M. Brett Gaffney graduated with a BA in English from Stephen F. Austin University and is currently pursuing an MFA in poetry at Southern Illinois University Carbondale. Her poems have appeared in The Medulla Review, Mad Rush, Precipitate, and are forthcoming in Ruminate. She hopes to one day own a pet stingray.